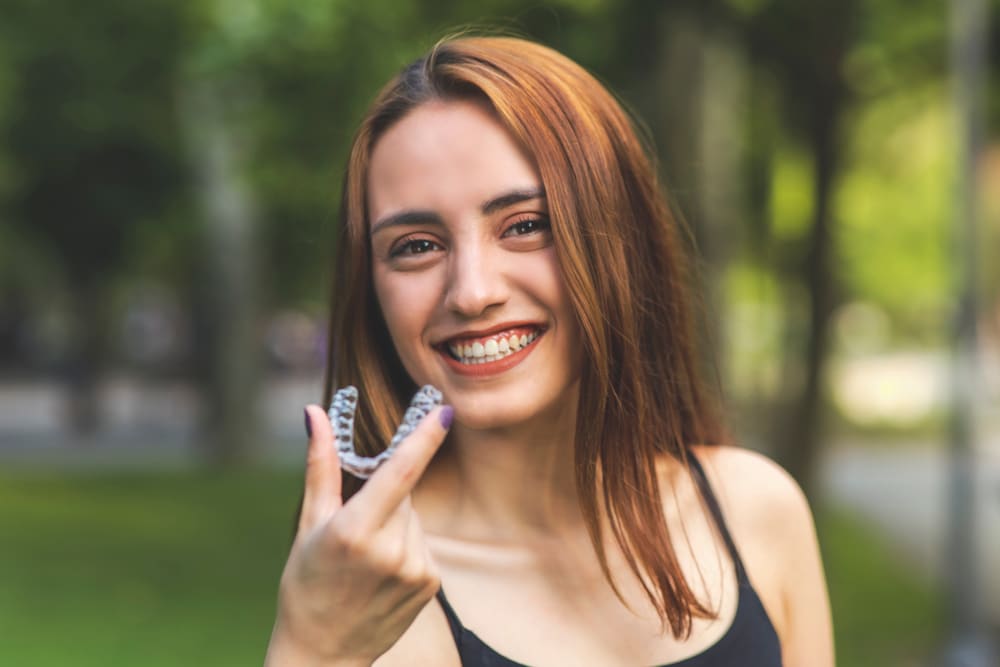 At Neeley Dental, located in Beaver, PA, we are proud to offer clear aligners as part of our comprehensive dental services. Dr. Michael Litchfield and Dr. Steven Neeley, our experienced and trusted dentists, are dedicated to delivering the highest quality of care to our patients.
What are Clear Aligners?
Clear aligners are an orthodontic treatment that uses custom-made, removable aligners to move your teeth into the desired position gradually. Unlike traditional braces, clear aligners are nearly invisible and do not require wires or brackets. Being clear makes them an excellent option for those who want to straighten their teeth discreetly. 
What are the Benefits of Clear Aligners?
Clear aligners are comfortable and easy to use. Unlike traditional braces requiring frequent adjustments, clear aligners only need to be adjusted every two weeks. The less frequent adjustments make them easier to maintain and less time-consuming.
Clear aligners offer a much more comfortable experience than traditional metal braces. Because the aligners are made of smooth plastic, no sharp edges or protruding metal can cause irritation. The aligners also have no brackets or wires, meaning no more poking and rubbing against the inside of the mouth.
Clear aligners are also virtually invisible. Metal braces are very noticeable and can be embarrassing for some people. On the other hand, clear aligners allow your natural tooth color to show through because they are virtually invisible when worn. Being discreet allows people to go through the orthodontic process without feeling self-conscious about their appearance.
Clear Aligner Treatment
At Neeley Dental, we use the most advanced technology to create custom clear aligners. Our 3D imaging software creates a detailed 3D model of your teeth. This imaging allows us to accurately map the exact movements needed to align your teeth properly.
The Doctors will then use this model to create a treatment plan tailored to your individual needs. We will use this plan to create your custom aligners made from a thin, transparent plastic material.
Once your aligners are ready, wear them for at least 20-22 hours daily. As you wear your aligners, your teeth gradually move into the desired position. Every two weeks, you will need to switch to a new set of aligners, which will continue to move your teeth until your treatment is complete.
How to Care for Your Aligners
Caring for your clear aligners is an important step in the process of straightening your teeth. Here are some tips on how to properly care for your clear aligners:
Rinse your aligners. It is important to rinse your aligners with lukewarm water after eating to get rid of any food particles or bacteria that may have gotten stuck on them.

Brush your aligners. Gently brush your aligners with a soft toothbrush and non-abrasive toothpaste. Brushing will help keep them clean and free of bacteria.

Soak your aligners in a cleaning solution. Soaking your aligners in a cleaning solution such as Retainer Brite or Clear Care will help keep them clean and free of bacteria.

Avoid high temperatures. High temperatures can cause your aligners to warp, so avoid leaving them in direct sunlight or the car.

Store them in the case. When not in use, always store your aligners in the case provided by Dr. Litchfield and Dr. Neeley. This will help keep them clean and safe.
These tips will help you keep your clear aligners clean and in good condition to enjoy the benefits of a straighter smile.
Clear Aligners in Beaver, PA
Overall, clear aligners offer many benefits over traditional metal braces. They are comfortable, virtually invisible, and offer a much more convenient treatment. For these reasons, clear aligners are becoming increasingly popular for orthodontic treatment.
At Neeley Dental, we are committed to providing our patients with the highest quality of care. We understand that orthodontic treatment might be intimidating, and we strive to ensure that our patients feel comfortable and confident.
If you are considering clear aligners, we encourage you to contact us to schedule a consultation. Dr. Litchfield and Dr. Neeley are available to answer any questions about clear aligners and will work with you to ensure your treatment is as successful as possible. We look forward to helping you achieve a beautiful, healthy smile!