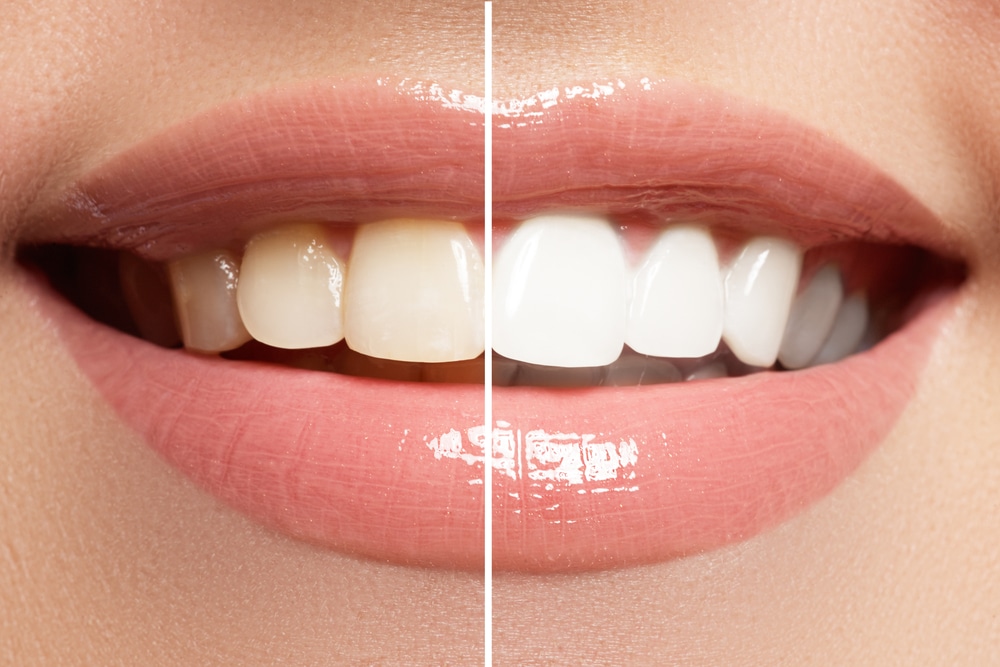 At Neeley Dental, we believe that everyone deserves to have a bright, healthy smile. Our experienced dentists, Dr. Steven Neeley and Dr. Michael Litchfield, offer professional teeth whitening services at our Beaver, PA, office to help you achieve a smile that you will love.
What is Teeth Whitening?
Professional teeth whitening is a cosmetic dental treatment that uses powerful bleaching agents to safely and effectively lighten the shade of teeth. Dr. Neeley, Dr. Litchfield, and their team can perform this process at our clinic. We will apply a whitening agent, such as hydrogen peroxide, to your teeth during the procedure. The bleaching agent breaks down and penetrates the tooth enamel, helping reduce discoloration or stains. The bleaching agent is then activated using a special light, providing a greater whitening effect. As the bleaching agent works, we can monitor the progress to ensure that the whitening is even and consistent. Depending on the severity of the staining, professional teeth whitening can take several treatments to achieve the desired results. Professional teeth whitening can be incredibly effective in achieving a brighter, whiter smile.
Why do Your Teeth Become Discolored?
Our teeth can become discolored for a variety of reasons. Certain foods and drinks, such as coffee, tea, and red wine, and certain foods, can leave stains on the surface of the teeth. Poor oral hygiene, such as not brushing and flossing regularly, can also cause discoloration. Smoking and chewing tobacco can also stain teeth. Certain medications, particularly those containing tetracycline, can also cause discoloration. Teeth can also become discolored due to aging since the enamel of the teeth wears away over time, exposing the dentin underneath, which is naturally darker in color. Certain medical conditions, such as acid reflux, can cause tooth discoloration. Finally, genetics can play a role in tooth discoloration, as some people are more prone to it.
What are the Benefits of Teeth Whitening?
Professional teeth whitening at Neeley Dental offers a number of benefits, including:
Quick and dramatic results

Custom-tailored treatments for maximum effectiveness

Professional-grade whitening gel for longer-lasting results

Safe, gentle, and pain-free treatments

Affordable pricing a
In-Office Teeth Whitening
Our in-office teeth whitening service is the perfect solution if you're looking for fast and dramatic results. The process is quick and easy – after just one visit to our office, you can leave with a brighter and more radiant smile. Our professional whitening treatments are custom-tailored to your individual needs, so you can be sure you're getting the best results possible.
Custom At-Home Whitening Trays
We also offer custom at-home whitening trays to help you maintain your bright, white smile. Our trays are specially designed to fit your teeth and provide maximum comfort. We'll also provide you with professional-grade whitening gel to help you get the best results.
Professional vs. Over-the-Counter Teeth Whitening Options
Over-the-counter teeth whitening products are much less effective than professional teeth whitening. These products typically contain bleaching agents that are much weaker than what a dentist uses and therefore take longer to produce results. In addition, over-the-counter products can be difficult to use correctly and cause irritating gums and other side effects.
Overall, professional teeth whitening is a much better option than over-the-counter products. It provides faster and more effective results, is done in a controlled environment, and is less likely to cause side effects. For these reasons, professional teeth whitening is the preferred option for most people looking to whiten their teeth.
Teeth Whitening in Beaver, PA
If you are considering professional teeth whitening, Neeley Dental in Beaver, PA, is a perfect choice. Dr. Neeley and Dr. Litchfield take the time to understand your individual needs and goals, so you can be confident that your teeth whitening experience is tailored to you. With Dr. Neeley and  Dr. Litchfield at the helm, you can be assured of the highest quality care, exceptional customer service, and outstanding results. Schedule an appointment today.